Sabato Florio
Via Emilio Catapano
San Giuseppe Vesuviano
Napoli - Italy
Tel.: +39 337 844341
Email:
[email protected]
02.09.10Sabyah Al Thawi was successfully checked in foal to Ansata Nile Echo for a 2011 baby. Stay tuned and see what this great combination can bring.
11.11.10We are proud to announce the birth of a beautiful filly foal by Nader Al Jamal out of Amira (by BJ Thee Kartoum). The only horse non Straight Egyptian of Florio Arabians. This young filly has a bright future in front of her.
Coming soon ...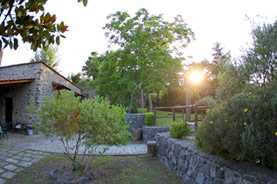 Protected by the beautiful Vesuvius, this small Arabian horse farm lays on the side of this ancient volcano. From there the view is breathtaking. The whole city of Naples stands in front of you, magnificent, powerful. A land rich of colors, perfumes and unforgettable sceneries. Here Sabato Florio founded his Florio Arabians. Sabato, better known as "Badino" started his passion for the Arabian horses already several years ago. The beauty of this creature captured him and he started to study and lear more and more about the Arabian horse, and especially about the Straight Egyptian horses. He travelled through Europe to look for the best straight Egyptian mares. Most of his horses come from the German bloodlines. And in Germany he found two of his most important horses. His very favorite mare, Sabyah Al Thawi, a beautiful snow white daughter of the great Ansata Sinan, and his stallion Arridaios Al Qusar a son of Ashal Al Rayyan. His breeding program is made of nearly 20 horses and every year he's blessed with incredible babies by Arridaios. In 2010 Badino made the decision of bringing Sabyah to Germany for some shows with Frank Spoenle but mainly to have her bred to Ansata Nile Echo. And now, Badino, is waiting with great anticipation this promising baby.